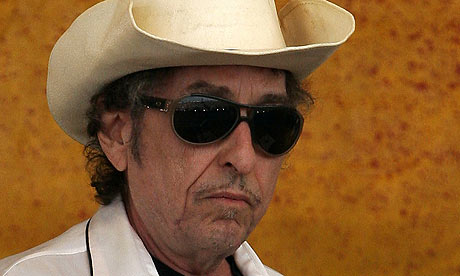 Happy 70th birthday to the Bard of Hibbing. I had planned to offer a list of "Bob Dylan's Worst Songs," but one, that seems a bit churlish today, and two, it takes a bit more research (I'm listening to
Saved
as I type this).
So I'll deliver that list tomorrow. Today I'll just mention a few favorites that may or may not be overlooked. It's such a huge and unsurpassed body of work that there are a lot of hidden corners - even if you stick to the official releases. So what follows may or may not be his "best" work - you already know that stuff - but a few songs that stick with me for one reason or another.
Black Diamond Bay
(
Desire
, 1975)
Possibly inspired by a Joseph Conrad story, this sprawling epic, (co-written with Jacques Levy) is full of great scenes and indelible characters. A wide-screen movie in seven and a half minutes.
Cat's in the Well
(
Under the Red Sky
, 1992)
Dylan has enjoyed playing this enigmatic piece quite a bit during the Never-Ending Tour, and it's a sprightly number. Maybe it's an allegory about your life or his, and maybe not. Don't know why I love it so much.
Clean-Cut Kid
(
Empire Burlesque
, 1984)
This is like a companion piece to "John Brown:" Wryer, perhaps, and less strident, but just as powerful in its antiwar sentiments. No less harrowing: "They made a killer out of him, that's what they did."
George Jackson
(
Masterpieces
, 1971)
Like Joey Gallo, Jackson makes for a flawed antihero, but his story allows Dylan to deal with larger issues:
Sometimes I think this whole world




Is one big prison yard




Some of us are prisoners




The rest of us are guards
High Water
(For Charlie Patton)
(
Love and Theft
, 2001)
Not entirely overlooked, but doesn't show up on many lists of his greatest songs. Still, it's on my lists of his greatest performances. Every time I see him do this number, he and his band absolutely slay the audience.
If Dogs Run Free
(
New Morning
, 1971)
I can never get enough of this one.
Mixed-Up Confusion
(
Biograph
, 1962)
Dylan didn't exactly "turn electric" in '65. He started out as a rocker in high school, and later fell in love with folk. But this outtake shows he never fell out of love with rocking out, either.
Rita May
(
Masterpieces
, 1975)
Bob's infatuation with the great lesbian novelist Rita May Brown inspired this lighthearted romp, issued as a single around the time of
Desire
. Later covered by Jerry Lee Lewis.
Trouble in Mind
(B-side, 1979)
This is the only one on the list that Dylan didn't write, but it's another killer performance, and one of the highlights of his Christian period. Released as the flip side of the "Gotta Serve Somebody" single, this
was written by
Richard M. Jones in 1924.
Yea! Heavy and a Bottle of Bread
(
Basement Tapes
, 1967)
Yet another goofball number from the '67 sessions that were partially released in 1975. When, oh when will they let me shell out my hard-earned dough for the complete boxed set?