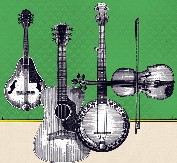 If you're within the sound of my zipcode, I'll be emcee for a few hours of the 26th annual
Tucson Folk Festival
this weekend. Join me at the
Old Town
Artisans stage from noon to 2 on
Saturday
. The shady courtyard there is a wonderful place to settle back and see some music, and best of all, the price is right: free.
I'll be introducing four of the more than 100 local, regional and national acts featured over the two days of the Festival. There's a self-described "weirdo," a young singer/songwriter with an old soul, an Irish dance band, and a collaboration between two longtime Tucson songwriters.
If you're not in the Tucson area, much of the Festival will be broadcast (and streamed) on public station
KXCI
.
I'm totally looking forward to this, and afterward... I'll be looking back on it. Hope to see you there!