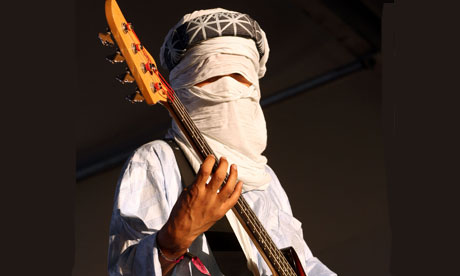 Forged in rebellion, the lyrics of Tinariwen speak of liberation and loss, a sorrowful love for the oppressed Tuareg peoples of the Saharan Desert. The music reflects the steely resolve of their struggle, and the serenity born of a deep sense of belonging.
It sounds ancient, like the blues, before the blues left Africa. And it echoes back the permutations of the blues that traveled back to Africa, to the ears of Ibrahim Ag Alhabib in his youth: the sounds of Santana, Zeppelin, Hendrix. His father was a rebel, rising up against the government of Mali; at age 4 the son saw his father executed. Sixteen years later, with teenaged friends he met in the refugee camps of Algeria and the guerilla training camps of Libya, Alhabib formed the revolutionary musical collective Taghreft Tinariwen (variously translated as "people of the desert," "empty places" or "building of the countries").
As a boy, Algrahib built his own guitars from bicycle brake wires and tin cans. In Libya he got his first electric guitar, and he has wielded it ever since as a weapon of love. Weapons of war have been forgotten since a 1991 peace agreement, but the songs still speak to the longing of the Tuareg diaspora. Ten other guitarists have come an gone through the Tinariwen collective over the years, as younger members have replaced the elders. The current touring band consists of six guitarists (including bass) and two percussionists. But it never takes on the muddled sound of an overcrowded jam session. The songs both sparkle with energy and soothe with transcendence.
Starting with their first recording in 1992, Tinariwen's songs were passed around the Sahara on cassettes. But in the '00s, the rest of the world began to take notice. Tinariwen's music has always been based on the traditional sounds of the nomadic Berber peoples, translated to electric guitars. For their upcoming fifth CD,
Tassili
, the collective reached back to their folk roots, recording in the Algerian desert with acoustic instruments. But they are also joined in the studio by Western colleagues: Tunde Adebimpe and Kyp Malone of TV on the Radio, Nels Cline of Wilco, and the horns of the Dirty Dozen Brass Band.
Their
2011 world tour
includes six stops in the USA in July, including Bimbo's 365 Club in San Francisco.