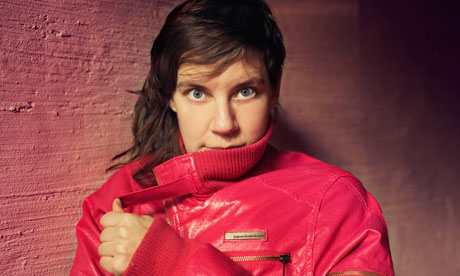 Appended below is my Pazz and Jop ballot for 2011 - or it will be if they count it. Apparently Village Voice editors are keeping banker's hours and knocking off work at a respectable hour. Their website wouldn't let me post my vote last night at 6:30.
Either way, most of these bands should finish well; I haven't included any left-field obscurities such as Micachu and the Shapes or Fol Chen, like I usually do. I hesitate to speculate on who may win the poll this year. There's no obvious frontrunner like Kanye was last year, though PJ Harvey is getting a lot of love out there.
For the first time in my decade of voting in the P&J poll, I've come up with a tie for first place. The TuNe-YaRdS album was my mainstay this year, and I didn't think I'd love anything more, until I heard
Strange Mercy
for the first time. Both
Garbus
and
Clark
are equally committed, talented and idiosyncratic, and both speak to the disjointed, irrational and fragmented state of our country in 2011.
All these albums - with the possible exception of Let England Shake - sound like they couldn't have been recorded in any century but this one, though most dab liberally at the palette of music styles established over the last half of the 20th. And all of this is rock music of one sort or another. I haven't voted for any americana or hip-hop as I usually do, though plenty of music from both camps moved me. What moved me most, though, was the new force of rock music these ten albums represent. Rock as a market share is weaker than ever, but artistically it's far from played out.
Jazz music evolved through phases of exploration until it reached a dead end (of sorts) with free jazz, having gone as far out as possible. Since then, the full range of jazz styles, including free, are available on that palette. The difference is that rock music hasn't gone down any one road, and while it may have hit some dead ends, it's not clear that it's gone as far as it can. But here are ten artists who keep driving on.
(The rules insist that music writers divide a hundred points amongst ten albums, with no one receiving more than 30 points or less than 5. The headings are Points/ Artist/ Album/ Label):
15 points:
TuNe-YaRdS
/ whokiill/ 4AD
Somehow our hero finds inner serenity amongst the violence and chaos around her. What Merril takes from Afropop is the rhythmic dominance, rather than the instrumental exuberance that Peter, Paul and David found. This suits her confident stride through the mean streets of Oakland, the neighborhood you wouldn't want to move to. Above all, her chameleonic voice, whether squawking or crooning, lets you know she's got it handled.
15 points: St. Vincent/ Strange Mercy/ 4AD
She's seen America naked, and it's just another authority figure to her, like a coach or a surgeon. Ms. Clark tones down some of the overt dissonance of Actor, instead hanging woozy curtains of synths in the window. Occasional bursts of light shine through, whether Talking Heads keyboards or Sonic Youth guitars, describing a world of casual cruelties and emotional violence. But in contrast to Ms. Garbus, her calm in the face of it comes off as unsettling.
10 points: Radiohead/ King of Limbs/ Self-Released
Some have lamented the relative lack of Greenwood's guitar, but it's Selway's drumming that is the dominant voice here. Both loose and tight, like Ringo in "Tomorrow Never Knows," the drums anchor the listener through the atmospherics. While Thom moans of mortality and "routines and schedules," dreams of abduction by raptors, or blisses out on the universe, Phil keeps insisting on the moment.
10 points: Girls/ Father, Son, Holy Ghost/ True Panther Sounds
What a delicious blend of audacity and vulnerability. The sound of a young man with absolute confidence in the recording studio, but less certainty once he steps outside. Mr. Owens careens from new love to broken heart with one indelible melody after another. In a just world, this would be all over the radio.
10 points: Black Keys/ El Camino/ Nonesuch
Cranks up the neo without turning down the retro. Enough of a step up from their previous high standards that it feels like they're just getting started. And this world is just enough that it gets just enough airplay. When my iPod shuffled up to it, my middle school art students, who love only diva pop and thug rap, knew it and grooved to it. Hope for the future.
10 points: Wilco/ The Whole Love/ dBpm
Wilco haters gonna Wilco hate, but they deliver for their base better than Boehner or Obama ever will. Call it dad rock if you will; this old dad loves it. But most dads I know - Boomer, GenXer or Millennial - don't rock out with this much eclecticism or commitment. If the history they sample from is their own - some alt.country steel here, a migraine murder ballad there - it just shows that they've earned their place.
8 points: Kills/ Blood Pressures/ Domino
Harkens back to a time before the sexual revolution was won, when desire was somehow menacing. It may not seem threatening any more, because the good guys won, but it's still overpowering, and in their hands, both focused and relentless.
8 points: Cults/ Cults/ Columbia
Okay, it's no new trick to marry girl-group harmonies to 00s fuzz. Nor is it unique to fuse that sunny optimism with darker lyrics. Part of what makes it work are the moments of precocious wisdom in a band so young. Like all strong debuts, it begs the question of what's next - continue to mine this vein, or consolidate and move on? But for now, not a waste of time.
7 points: PJ Harvey/ Let England Shake/ Island
A career highlight in a career studded with them. Redolent of British folk rock to the point where it was recorded in an old church - and not coincidentally, one perched on the white cliffs of Dover. While the songs look across the channel to contemplate imperial slaughters of a century hence, it's not hard to make the connection to newer ones further south.
7 points: Yuck/ Yuck/ Fat Possum
If you're gonna reach back to 20th-century rock styles, that last decade is fertile ground to plow. They've got style; miles and miles. And not without substance, either - but as to whether all that style is wasted, see question for Cults, above.
Singles
Girls/ Honey Bunny/ True Panther Sounds
Beastie Boys/ Don't Play No Game That I Can't Win/ Capitol
Hanni El Khatib/ Build. Destroy. Rebuild./ Innovative Leisure
Panda Bear/ Last Night At the Jetty/ Paw Tracks
Gang Gang Dance/ Mindkilla/ 4AD
Beyonce/ Countdown/ Sony
Danger Mouse & Daniele Luppi (Ft. Jack White)/Two Against One/ Capitol
Black Keys/ Lonely Boy/ Nonesuch
Wild Flag/ Glass Tambourine/ Merge
James Blake/ The Wilhelm Scream/ Universal Republic